So, after my best friend got me into the one and only RuPaul and his fantastic drag race, I've been loving all the queens! I'm hooked and what has intrigued me most is just how incredible they all look when glammed up. Just how do they manage to perform, death-drops and all, and still have flawless makeup? Within seconds of hearing Beyoncé and hitting the dance floor on a night out, I've got one eyelash clinging on for dear life and my base is sliding off quicker than Akashia falling on season 1.

All puns aside, I just had to do my research into the queens' best tips and tricks on how to achieve the most flawless base, brow and beyond…
Season 3 winner, Raja, says to not close your eyes when doing your eye makeup and this one, in my opinion, is genius especially for us hooded-eyelid babes. "The worst thing you can do is apply all the makeup on to your eyelids and then you open your eyes and then it all disappears. So if you just look at yourself straight on, this is how people will see you."
BenDeLaCreme, part of season 6, says that you don't need to spend top dollar on makeup brushes. "I love to use those sponge paint brushes to apply makeup because you can get a hard-line by using the edge and a soft effect by using the sides. I use it for foundation, for shadows, for everything." I don't know about you but I think this hack is GENIUS!
Now, when I read this hack, I cackled but then ran to grab a bottle of lube from the drawer… Don't click away because Darienne Lake, season 6 contender, says that lube is the next best thing to use for primer. "I found this great makeup primer, and I read the ingredients. I realised the main ingredient is also the same main ingredient that's in my lube! It's the same exact stuff — dimethicone! I'm a bargain queen, so sometimes I'll use just a drop of lube on my face as a primer or in my hair for silkiness. Lube as a primer makes makeup just glide over your face so smoothly."
Season 7 babe, Miss Fame, gives us the best tips for creating a base that colour matches to your skin and highlights perfectly. She suggests using a foundation that matches your skin colour on the perimeter of your face: your jawline, cheeks, outer edges of your forehead, and along the sides of your neck. Next, swipe a lighter foundation on the interior of your face: under your eyes, on the middle of your forehead, on the centre of your chin, down your nose, around your nostrils, and on the inner part of your neck. Blend everything with a damp makeup sponge, pressing the makeup into your skin for a more natural finish.
Miss Fame also says that under-eye creasing is preventable with this next tip. "After applying your concealer, set the formula with powder using a fluffy brush to create a super-even, dark circle-free effect, then, add a little more powder to a puff or beauty blender, pressing it into your skin to prevent creasing." Remember girls, press don't swipe!
On season 6 of drag race, we saw April Carrion sass her way through until elimination in episode 4. She says "I glue my fake lashes directly onto my real lashes instead of along the lash line above to give me a more open eye. I sandwich the two together and tilt the fake lashes up really high, which makes me look like I have bigger eyes." I don't know about anyone else but when it comes to lash application I DO fuck it up, so this hack is definitely going to come in use.
Okay, so I have used this in the past to keep my makeup on for longer but have been ridiculed for it. Hair spray for makeup. Season 7's runner up, Ginger Minj, says that she doesn't use the whole can to keep that quiff sky-high. "I do not recommend it for everyday (alcohol and other chemicals in hairspray can cause the skin to become dry and break out after prolonged use), but it has certainly saved my suitcase some extra space time and time again."
Don't be afraid of colour like season 3's Alexis Mateo. Step away from the naked palette and drop the Morphe 35T palette because its time to inject bold colours into your makeup look. For a day-look that is office-appropriate, accentuate either lips or eyes. For evenings and weekends, be bold and daring with dramatic eyes and/or lips.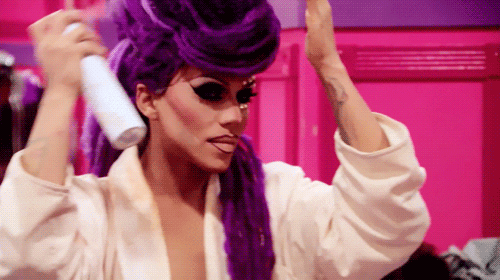 Violet Chachki, one of season 7's queens, says to set your lip liner with eye shadow- The powder not only prevents the lip liner and lipstick from bleeding throughout a long night of multiple performances, it also camouflages the natural lip line by creating a darker gradient right over the edge.
Men's razors do it better, girls, so quit spending your money on 'the closest shave women's razors' and pick up a pack of standard men's razors. When it comes to getting a seriously smooth shave, Pandora Boxx from Season 2 swears by men's razors.
What a completely fun post to write… And the gifs, gah I love the gifs! I will definitely be trying some of these hacks out, let me know if you will too! Thank you for reading.